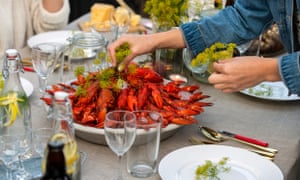 1. Everyone loves a crayfish party
In Britain, our most popular summer food ritual involves eating mouth-burning chips with a wooden fork on the seafront. In Sweden, summer is celebrated with the kräftskiva – a crayfish party that's the highlight of any self-respecting Swede's calendar. Held in early August, flagons of beer and chilled shots of liquor are served alongside freshwater crayfish, Västerbottensostpaj (a cheese flan) and plenty of rowdy singing. In keeping with the generous spirit of the kräftskiva, guests wear bibs and party hats, making for an unforgettably joyous celebration.
2. The coffee break is a venerated ritual
Like the siesta in Spain, or British elevenses, fika is an essential pause in the Swedish working day. Although fika is more about catching up with friends than the coffee itself, you'll still find some fantastic cafes across Sweden serving up superlative grinds. Even better, coffee often comes with kanelbullens (cinnamon buns) or kardemummabullar (cardamom buns), which are universally delicious.
3. Cinnamon buns have their own national day
The Swedes are world-class at celebrating their baking traditions, with festive days dedicated to worshipping waffles, carrot cake and even shrimp sandwiches. But the most beloved is kanelbullens dag, which falls on 4 October each year and celebrates Sweden's famed, fragrant cinnamon buns. If you're a fan of pastry, it's an ideal time to visit Sweden and indulge – and a lot more fun than svampens dag (mushroom day).
4. Sweden's national cheese is utterly unique
Made to a closely guarded recipe at Burträsk, in northeastern Sweden, Västerbottensost is known as the king of Swedish cheeses. Strong and tangy, with added crunch thanks to its salt crystals, attempts to recreate its unique flavour outside Burträsk have failed. This has been attributed to everything from the type of wooden shelf the cheese is aged on, to the mood of local cows – a short documentary has even been made about the phenomenon. Whatever the reason, it's a must-try, especially during crayfish season, when it's put to delicious use in Västerbottensostpaj, a flan served to accompany the crayfish.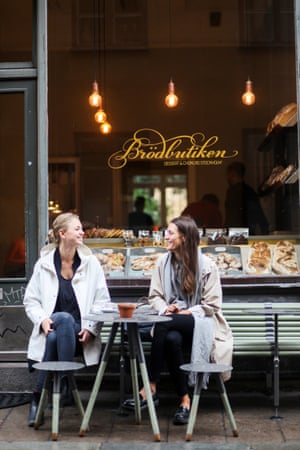 5. It's home to one of the stinkiest foods in the world
If crayfish aren't fishy enough for you, visit Sweden for the surströmmingspremiӓr, or sour herring premiere, which falls on the third Thursday in August. To make surströmming, raw herring is preserved in salt and fermented for six months, resulting in a powerfully acidic flavour and unmistakable aroma that has led surströmming to be branded one of the world's smelliest foods. Banned by certain airlines, the cans of fish need to be opened outside (never indoors) and are often eaten with tunnbröd (flatbread) or knäckebröd (crispbread), boiled potato, onions and a dollop of sour cream. Apparently they taste better than they smell!
6. Crispbread is preferred to the fluffy stuff
Speaking of knäckebröd, these tasty rye crispbreads are ubiquitous in Sweden, and you'll find them served alongside your main meal in restaurants or piled with all manner of delicious toppings as a snack in the country's ubiquitous cafes. Crunchy and earthy, they're the perfect edible platter for meats and cheeses (including Västerbottensost, of course), smoked salmon, fruit spread and even caviar.
7. Sweets are for Saturdays
The Swedes are notoriously sweet-toothed, each eating around 15kg of sweets per year. In 1957 the Swedish medical board advised families to limit their intake to one day a week – which evolved into a tradition known as lördagsgodis, or Saturday sweets. In feeding this day of treats, the country's pick-and-mix shops are bounteous, offering delicious traditional pickings such as salted liquorice, lingonberry chocolate and the much-loved Swedish fish (actually wine gums). Dip in, you're on holiday …
8. It's a berry-lover's delight
Forget plain old strawberry: Sweden's favourite jam is lingonberry, which is dollopped on to everything from pancakes and knäckebröd to meatballs and (of course) herrings. A trip to Sweden is your chance to try cloudberries, which look like pink-and-amber blackberries and have a similarly sharp kick. They're known as "arctic gold", but thanks to the Swedish allemansrätten – the "freedom to roam" rule – anyone can set off on a berry-hunting expedition. If you're lucky, you might come across the åkerbär, or arctic bramble, a type of raspberry that's considered a delicacy and often turned into a sweet liqueur.
10 of the best food markets in Sweden: anyone for smoked moose meat or cloudberry doughnuts?
9. Reindeer meat is surprisingly delicious
In Sweden, Dasher, Dancer, Prancer and Vixen are more likely to be found on a dinner plate than delivering presents. Reindeer meat is lean and high in protein, and is as versatile as beef: here, you'll find it stuffed into pitta bread, dollopped with lingonberry jam, cold-smoked, roasted and even served as a pizza topping. Traditional Swedish restaurants offer some delicious opportunities to try it – perhaps best not to tell the kids.
10. Craft beers abound
Beer-lovers are well catered for by Sweden's independent craft breweries – the country has around 400 – and Stockholm in particular has a great craft-beer scene. While familiar names such as Brewdog abound, head for a local brewery or specialist beer bar to try something a bit different. The Stockholm Brewing Company has a taproom alongside its brewery which is open on Fridays and Saturdays. Regular theme nights, pop-ups and events, make a visit here as eclectic as its beers (which include a brew spontaneously fermented with yeast captured from the air as it cools outside).
For an alternative drinking experience, head to PangPang, one of Stockholm's first microbreweries. Known for its handmade beers, often created with a twist, you might be tempted by its sour IPA brewed with coconut cream and pineapple or the imperial stout aged in new medium-toasted American oak barrels. It's definitely pushing the boundaries …
Welcome to Sweden when the time is right
To find out more about Sweden's rich and varied cuisine, head to Visit Sweden were you'll find information on everything from food and drink festivals to bars, cafes and restaurants
Get advice about travelling to Sweden, including the latest information on Covid-19 restrictions at gov.uk/foreign-travel-advice/sweden
Topics