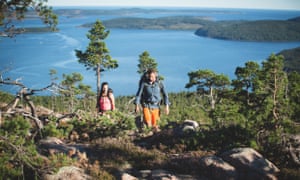 Wherever you are in Sweden, nature is never far away. Tiny villages come with backdrops of towering snow-cloaked mountains and buzzy cities are hugged by the arms of clean, winding rivers. This is the third largest country in Europe, yet it has the second lowest population density; the result is a land of wide open spaces, crammed full of nature and begging to be explored.
"The freedom to roam – known as allemansrätten – guarantees any visitor to Sweden can walk, hike and explore pretty much anywhere they like," says Daniel Green, a guide for the Travelling Naturalist, who leads small-group wildlife tours in Sweden. "The diversity of birds, mammals, butterflies, dragonflies and plants here is high, with good populations of many species considered scarce in many other parts of Europe."
It's this freedom to roam, and immediate access to nature that makes spending time in the great Swedish outdoors a truly exhilarating experience. And there's plenty of open space to recce. Sweden's network of 30 national parks – a tantalising jumble of wildflower meadows, mountains, beaches and forests – sprawls across nearly 700,000 hectares. Many, such as the popular Abisko in the far north, are reachable by train or car, and laced with hiking, snowshoeing and dog-sledding trails.
Another place not to be missed is the Laponia world heritage site, a beautiful mountainous area boasting four huge national parks. As well as being a landscape of exceptional natural beauty it has immense cultural value too, being home to the Sámi people who have herded reindeer there for thousands of years, leaving behind traces of humankind's early development.
Farther south, it's worth a schlep – on foot or by ski – to Sarek near the Norwegian border. One of Europe's last great unspoilt tracts, its ogre-like mountains and glacier valleys shield elusive wildlife such as elk, lynx, wolverine and the endangered Arctic fox.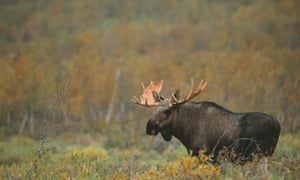 If rare wildlife is your thing, head to south central Sweden and join a guided tour with a wolf tracker; you may just hear a ghostly howl echoing through the forests. Brown bears, too, can be spotted from hides in Dalarna, Gävleborg and Jämtland. But if you're more content with herbivores, many operators offer moose and beaver safaris, giving you a great chance to spot these unofficial Swedish icons in their natural environment.
Beyond the parks, Green encourages visitors to explore some of Sweden's epic mountain ranges. "The Härjedalen mountains – the southernmost part of the Scandes range – offer a scenic area with good trails and lodges," he says. "Here, you can enjoy breathtaking views without any steep climbs or strenuous walks."
He suggests starting your journey in the small town of Funäsdalen, then take a majestic drive to some of the summits and high plateaux such as Nipfjället and Flatruet. "There are often log cabins along the trails serving lunches, such as waffles with cloudberry jam and whipped cream," he says. "The car cabin in Funäsdalen or the Arctic fox safari at Helags mountain station are musts, too."
But it's not just the vast, open countryside that makes Sweden a nature lover's dream. Even the cities are decidedly green, with well-kept parks in Lund acting as flower-filled oases, and Malmö's city beach drawing in brave bathers. In Gothenburg, adventure is never far from your doorstep either – with mountain biking, paddleboarding and even bouldering within easy reach – while a kayaking trip around the Stockholm archipelago is a bracing way to explore the nearly 24,000 islands that sit like the shards of a dropped plate just outside the city.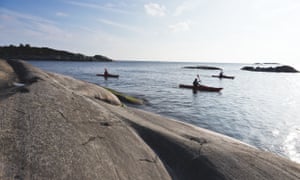 This access to nature is a key part of the Swedish lifestyle, and the great outdoors plays a huge part in the lives of local people. Nature really is a tonic in Sweden – a source of recovery for many and a springboard for self-development, acting as a restorative, calming force that ensures the quality of life here is nothing less than superb. Opportunities to get outside are joyfully endless, from hiking and berry picking, to having fika (coffee and buns) with friends in nature, or spending evenings in front of a crackling fire.
Here's to cinnamon bun day and stinky herring: 10 things you need to know about Swedish food
Although what's happening at eye level is certainly alluring, it's important to remember to look up while here, too. Because the skies above Sweden are as much a reason to visit as the primeval forests and craggy archipelagos. In winter, the northern lights stretch like swathes of silk across the darkness, shifting in their slow, beguiling dance and shining in shades of green, purple and gold. It's in the northernmost part of Sweden, known as Swedish Lapland, that you'll be in with the best chance of seeing the soul-stirring northern lights for yourself (be sure to visit between September and March if you want the best odds of spotting the greatest light show on earth).
If you're more of a fair-weather traveller, the summer months see the arrival of the midnight sun in Sweden, when skies come alive with soft pinks and lavenders. This never-ending daylight means that it's even easier to spend time outside, and you'll find locals taking the plunge in Sweden's cold bath houses and wild swimming spots long into the evenings.
With staggering natural beauty, magnificent wildlife and clean green spaces at your fingertips, Sweden should be top of any nature lover's list.
Welcome to Sweden when the time is right
To find out more about Sweden's nature highlights, head to Visit Sweden were you can learn about everything from the northern lights to kayaking and hiking
Get advice about travelling to Sweden, including the latest information on Covid-19 restrictions at gov.uk/foreign-travel-advice/sweden
Topics